The friendship Chain has been doing its rounds for quite some time, and I was supposed to get my mystery ingredient from
Arundati
. Srivalli had been regularly checking with both of us on when I would receive it. I was also reguarly in touch with Arundati on its delivery and she was a little caught up ( like I have been ...looks like this is a damn busy year for everyone).
Must say I had been a little nervous on what it might be and whether I will be able to recognise it and use it or I will have to get back to Arundati to find out the mystery. Luckily, when it arrived I heaved a sigh of relief ...it was but something that is always there with me in my kitchen cupboard, for it is an amazing spice, that can turn ordinary fruits into magical
grilled/poached delicacies and is also used in making the tasty Andhra Biryani. It is something that the local populace has just started discovering over the last 2-3 years, thanks to the grocery store boom and the availability of stuff that was unheard of in the old kirana store days.
This also happened to be
my 50th post
. It had to be special. I was mulling over whether to post my Chennai travails or something else. Arusuvai proved to be the perfect one for the ocassion. For all who do not know about Arusuvai, you can go over
here
and read all over it. ( Arundati, thanks a ton ...the letter though is pending :D)
Now its my turn to send over a mystery ingredient to an unsuspecting blogger. Mulled over whether to send some wasabi or ratan jog ...but then decided to go easy.
Jayasree
, will be receiving the secret ingredient. All the best to you ... hope you work wonders with it.
Now getting back to my secret ingredient ...Star Anise. It is called
Anasphool/Dagphool
in hindi,
Badian
in Marathi,
Anaspuvu
in Telugu and
Anashuppu/Anasipu
in Tamil. A traditional ingredient of the chinese five spice powder and also traditionally used in many indian dishes. You can read more about Star Anise in this
wikipedia
post ranging from its traditional uses to its recent uses in Baking to its medicinal properties.
I had already posted a pineapple dish sometime back in November where I had used Star Anise, so I couldn't do it again. For nostalgia sakes I'm adding a
hyperlink
for all those who missed it out. This time it had to be different, bigger and better. Afterall it was Arusuvai and it was my 50th post. So, here it is, a combination of 3 different dishes, 3 different courses of a meal, a starter, a main course and a dessert, 3 different cuisines, Indian, Mediterranean and western. Of course not all in one, though they were all tried out in a single day. This is my first trilogy, one after another ..an ode to Star Anise, A big thumbs up to Arusuvai ...may the chain, go on and on ( well, that reminds me, I still need to send the stuff to Jayasree ), and last but not the least, kudos to this blog ( never thought it will last this long and see so many pour in). For some time, my Chennai travails and the Iyer delicacies will have to wait.
Mutton Chops Kozhambu


Chettinaad cuisine from Tamilnadu brings the lifestyle of Chettiars ( the merchant banker class) to the forefront. Coming from the driest regions of the state, they make full uses of all that is available to them. Kozhambus are gravy dishes made of a variety of spices, predominantly using, Marathi Mogga, Star Anise and but of course peppercorns. Meat, Chicken, Fish & Vegetables can be added to these gravies and cooked.
I made a typical Mutton Kozhambu, but instead of using mutton pieces or chunks, I used Mutton Rib Chops.
Some ingredients that I did not add, but you can try it out with them like, drumsticks and shallots. I wanted to keep it simple rather than a medley of different flavors. Must say, the addition of star anise makes the dish come out fabulous.

Ingredients:
Mutton Rib Chops - 150 gm
Onions, made into paste - 200 gm
Tomatoes, made into paste - 150 gm
Star Anise - 2 No.
Marathi Mogga - 1 No
Cloves - 5 gm
Whole Red Chillies - 3 No.
Fennel - 5 gm
Ginger Garlic Paste - 3 Tsp
Turmeric - 1 Tsp
Red Chilli Powder - 4 Tsp
Corriander Powder - 2 Tsp
Cumin Powder, roasted - 2 Tsp
Coconut, grated - 2 Tblsp
Curry Leaves - 5-6
Lemon Juice - 3 Tblsp
Pepper Corns - 5 gm
Black Pepper Powder - 1 Tsp
Oil - 20 ml
Salt - To Taste
Method:
Pre-Preparation
1. Marinate Mutton Chops in oil, lemon juice, 1 Tblsp Red Chilli Powder, Black Pepper Powder 50 gm Onion paste and salt. Keep aside for 30 minutes.
2. Heat Oil in a pan. Sear the mutton chops. Add in the remaining marinade. Take out chops once half done and keep aside.
Preparation
1. Heat oil in a Wok. Add in the remaining oil and marinade from the chops.
2. Put fennel then whole red chillies, Star anise, Marati mogga and cloves.
3. Saute it till light brown and add onions, followed by ginger garlic paste.
4. Once paste startes to turn golden brown add in the mutton chops. Saute for 5 mins.
5. Put turmeric, red chilly powder, coriander powder, roasted cumin powder, coconut, salt and pepper corns.
6. Add water and cover and keep in slow flame.
7. When chops are almost cooked add tomatoes and cook till done.
8. Serve Hot.
To Be Continued ...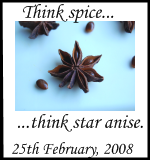 Addendum:
Sleepy brain ...missed out another part. Srivalli had mentioned to me ( when I disclosed my secret ingredient to her) that I could send this entry to Sunita's Think Spice event of the month, for Star Anise was the star for Feb'08. So here it goes ...this post is my entry. You can go and check out the
Think Spice Event here
.